I decided I need to utilize this blog more, and as I don't have enough to say about myself, I might as well focus some attention to some of the things I love most. Namely; comics. So, without further ado, here's some thoughts on some comics I read last week.
This is gonna be an X-Men heavy post this time around. You were warned!
1. What: X-Men: Legacy #239
Why: More of one of my favorite runs in the history of Marvel's mutants. Mike Carey continues to utilize left of center characters, cool locales and a different kind of adversary. I cannot get enough of this book, especially when it includes some of the younger generation of X-Men and the art of current penciler Clay Mann. Mann's art isn't without flaws, but he is by far one of the most consistent and, frankly, gorgeous artists working at Marvel.
2. What: X-Men: Curse of the Mutants- Storm & Gambit
Why: Marvel continues it's burgeoning Mutant/Vampire showdown with this one-shot that has master thieves Storm and Gambit on a solo mission to recover the body of Dracula. Sound weird? It is. But I have to admit that Chuck Kim, a new comer to the X-Books does a pretty good job of combining the action of the book with a much more important character study of Storm and the decisions she's made in her life as an X-Man. And with Chris Bachalo on art duties, I couldn't pass it up anyway!
Quick Mention: Namor: the First Mutant #1 also came out this past week, as we join the Sub-Mariner on his quest to find the head of the aforementioned Dracula. I wasn't expecting much of this book (mostly cos of my disappointment in the art of Ariel Olivetti in the past few years) but writer Stuart Moore really manages to pull together a good story with some interesting new characters and a brand new mythology surrounding the race of Atlantean vampires. I will be picking up #2.
And finally, as a change of pace…
3. What: Donald Duck and Friends: Double Duck TPB
Why: What? You think Donald Duck is an odd choice? It's not. I'll tell you why. If you want a showcase of what beautiful, all-ages fun story telling should look like, then Disney comics are the place to go. In this, the first collection of Boom! Kids Donald Duck adventures, the titular hero adopts a new identity as a secret agent. Silly? Of course. But the art in the first third of this book alone is worth the $9.99 cover price. Check it.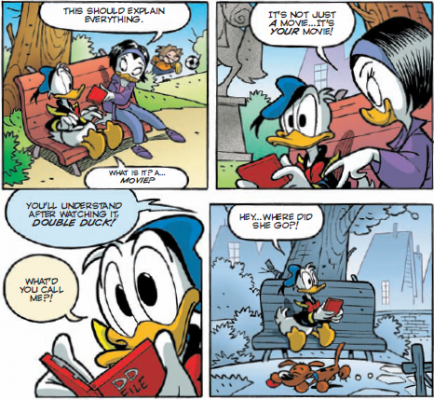 Ugh. It makes me want to put my pencil down and never look at it again. So, if you want a fun, simple comic to keep you company on your commute, grab this book and feast your eyes. I can't get enough of it…and can't wait to pick up the next installment!
Alright, that's all I got for now. In future installments I hope to include some comics from my library that catch my attention, whether it's a pretty new trade paper back or a single issue of Power Pack from 1987, I hope to share my thoughts. And I hope you give it a read, and maybe find something you'll love.