Comics I Read: SPX Roundup!
So the weekend of September 11-12, I was at the Small Press Expo. And surprising no one, I came home with a hefty handful of new minicomics to pour through. This will look at some of the comics I enjoyed the most, but absolutely not all. I'll save some for later when I need a break from X-Men comics and Vertigo graphic novels. (Since these are minicomics, forgive some personal/bad photography to get some of the covers on here.)
SPX!
Okay, let's start off with one of SPX's shining stars (in my humble opinion.)
What: Zak & Sara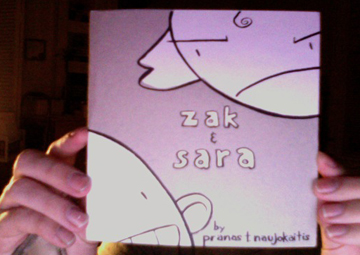 Who: By Pranas T. Naujokaitis
When: Originally published in a different format in 2008, new edition August, 2010.
Where: ghostcarpress.com
Why: I became aware of Mr. Naujokaitis due to his involvement in the SEQALAB (the Savannah College of Art and Design's Sequential Art Department's podcast) though this is my first official purchase of one of his comics. At last year's SPX, I read my friend's copy of Boxcar Joe and immediately regretted not stopping by his table and making a purchase. This year, I foolishly stopped by with barely any money in my pocket and made a stab-in-the-dark purchase with Zak & Sara. I'm not unhappy with my luck. Z&S is a simple, quick read focusing on poor Zak's fruitless attempts to claim Sara's heart. Each page is it's own, heartbreaking gag. Amazingly, as Zak meets disappointment page after page, it never feels repetitive. Even on the final page, where you can guess at what's coming, you know it couldn't have ended any other way. So true, Mr. Naujokaitis, so true. Two thumbs up!
What: Boogers
Who: By Kevin Burkhalter
When: 2010
Where: Mr. Burkhalter's journal comic can be found at kevinsjournalcomic.com, and has books available at ComixPress. I'm not sure where/if you can find Boogers!
Why: Another SEQALAB alumni, Mr. Burkhalter has knocked this fun little diddy out of the park. A little booger with a crush goes on an epic quest to win his lady love. Things take an awkward turn. It's simple, the art is wonderfully spot on, it makes me feel good and it's awesome. If you can find it, check it out. As a matter of fact, go to his site, e-mail him and try harassing him. It's what I would do.
And finally, one of the most impressing minis from the weekend…
What: A Profound State of Unconsciousness
Who: By Erik Heumiller
When: September, 2010
Where: helmsmanpress.com, though Mr. Heumiller is being lazy and it isn't currently up on his site or available for purchase. Send him an angry e-mail.
Why: Despite the fact that I know Mr. Heumiller personally, that has nothing to do with why I'm including him here. His new mini is actually that good. A surreal journey looking at identity, the collective unconscious, the nature of dreaming and more. The writing and conservative art make what I, and plenty of other con goers at SPX also know; Mr. Heumiller is going to go on to do some great things, and you do not want to miss his first offering. You'll regret it! Go to the aforementioned url and HARASS him. He needs the kick in the ass.
Alright, try and check out these young stars and let me know what you think about the "Comics I Read" blog!