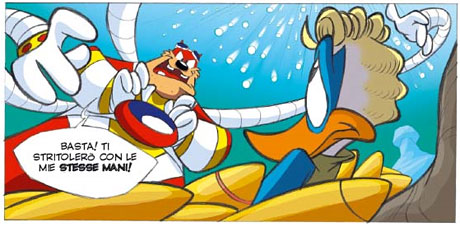 What: Disney's Hero Squad: Ultraheroes – Save the World
Who: By Riccardo Secchi, Alessandro Ferrari, Giorgio Salati (writers), Stefano Turconi, Antonello Dalena, Ettore Gula, Emilio Urbano (artists) and Saida Temofonte (translation)
When: Originally published monthly in 2009 in Walt Disney's Comics and Stories #699-702 by Boom! Kids.
Where: Most comic shops and book stores should have this collection, but I only found it in one comic shop in Philly.
Why: When Emil Eagle and a half dozen villains plot to rebuild a device left in the present by Eega Beeva, genius of the future, Eega has no choice but to assemble some of Disney's mightiest heroes! The Duck Avenger (Donald Duck), Super Daisy, Super Goof and more (with Mickey fetching pizza and running errands!) the heroes battle for the pieces to Eega's doomsday device!
Not only is this a fun Disney comic with magnificent art, but it's also a proper super hero story! While the heroes try and keep their secret identities hidden (somehow Donald doesn't gather that Super Daisy is in fact his girlfriend Daisy), they must also thwart the villains, and find Uncle Scrooge and his missing Money Bin. It's a hell of a mix, and a great read. Want a $10 comic that's perfect for all ages? Here it is. The art alone will have me coming back, but I can't wait for the next book to see if the heroes can stop the evil Phantom Blot!